Learn to Ride at Upper Mace Equestrian Centre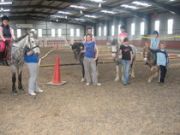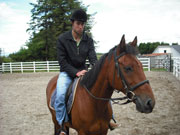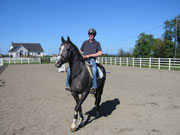 The aim of the Upper Mace Equestrian School is to improve the overall skills and standards of riders of all ages in the West of Ireland. Don't worry about the West of Ireland Mayo weather either! Most riding lessons are held in our superb Indoor Arena.

Whether you are a complete novice, an accomplished rider or taking back up the reins after a break, our Mayo riding school has everything you'll need to learn and train in safety and security. Our qualified and professional staff are constantly on hand to offer advice and encouragement in a friendly and professional atmosphere.

5-Bar Mackey Training has been introduced as a way of assesing and coaching riders to higher levels. We have incorporated this system into our training.
As SJI Training Rep for the Connaght region, Joan Fallon Walsh is involved in organising training in all the different regions of Connaght. Anyone wishing to avail of 5-Bar Mackey training please contact Joan on 087 839 5233.
Upper Mace Equestrian Centre caters for all levels of experience. Offered are group and private lessons in a range of disciplines. We also take pride in the fact that we meet the increasing demands of the Special Needs Riders.

Not in the mood for a lesson? Enjoy the experience of Horse Riding Outdoors in the heart of the West of Ireland on our Superb All-Weather surface Farm Ride. Ride on acres of beautiful farm land, river valley, woods, hilltops on safe, suitable mounts.

For more information please Contact Us